Mobile Innovations Announces Demo DeX-Connected, Multifactor-Protected Samsung Smartphone in D&R Upfitted Police Cruiser at CACP 2018
At CACP 2018, Mobile Innovations will demo the Multifactor-protected, DeX-driven 'Connected Officer Solution' live on the show floor, in a fully upfitted D & R Police Cruiser, from August 12-15, 2018.
Press Release
-
updated: Aug 10, 2018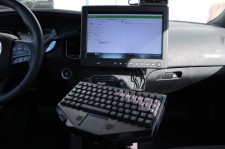 HALIFAX, Nova Scotia, August 10, 2018 (Newswire.com) - ​​Mobile Innovations CEO Gary Bauer today announced his company's unveiling of a new Multi-factor-protected (secured) DeX-connected officer solution at the 113th Canadian Association of Chiefs of Police - CAPC 2018 Conference and Exhibition. This new 'Connected Officer' solution is to be showcased with live demos in a fully-upfitted Dodge Enforcer throughout Canada's biggest annual police conference.
"As the officer moves from the street to the cruiser, they dock their S8/9 or Note8 smartphone in a ruggedized in-vehicle DeX." Explains Mr. Bauer. "This securely fires up our MPA Niche, native Android and legacy Windows apps through VDI, on D&R Electronics' in-vehicle MiL-spec 12" touchscreen, removable keyboard and console-mounted thermal printer. At headquarters the officer places the same S8/9 or Note8 onto a DeX pad, launching the same apps on a full-sized screen, keyboard, and mouse."
"The Samsung S8/9 or Note8 moves from being the officer's mobile device to becoming their main computing device, securely with no PC or ruggedized laptop required," adds Dave Brown, CEO of Mobile Innovations' support partner FSET. "The pre-show demand is huge because our customers have been visualizing exactly this phone centric connected officer solution for years."
Bauer and Brown will be on hand to conduct live demos of his Niche Records Management System (MPA Niche) with mobile policing specialists from Samsung and upfitting experts from D&R Electronics. As well as carrying out demos in D&R's Dodge Enforcer, Mr. Bauer and his team will also run demos on a new simulator console, designed for piloting the end-to-end DeX solution with no need for actual in-vehicle installation.
The 113th Canadian Association of Chiefs of Police Annual Conference will be held in Halifax's Convention Centre in downtown Nova Scotia August 12 – 15, 2018 and is co-hosted by the Halifax Regional Police Service, RCMP Halifax District, and the Canadian Forces Military Police.
For more information, or to arrange your demo slot in advance at this years 113th Canadian Association of Chiefs of Police Conference and Exhibition, please contact Gary Bauer at 416-706-7669 OR garyb@mobinnoco.com.
 See you at CACP Trade Show Booth Number 515
- 30 -
FSET is a Mobile Innovations Partner offering Managed Security Services and more to SMB and Enterprise organizations. Based in Kenora, Ontario, FSET specializes in progressive, technology-based solutions for public and private sector clients in law enforcement, health care, finance, banking and other service sectors.
Mobile Innovations is a privately held company dedicated to enhancing mobile computing with the most advanced secure mobile data products available for Android, iOS, BlackBerry, and Windows Mobile smartphones and tablets. Based in Niagara Falls, Canada, Mobile Innovations also has operations in Toronto and the United Kingdom and works with over 75 clients across Canada, the United States and in the European Union. Mobile Innovations is a member of the BlackBerry® Alliance Program, Samsung Enterprise Alliance Program, and the Apple Developer Program.
Source: Mobile Innovations News Dept.
---
Categories: Law Enforcement
Tags: CACP 2018, D & R Electronics, DeX, Mobile Innovations, MPA Niche
---